Wigan Athletic go into the Championship season with Ben Amos firmly cemented as their number 1, with former captain Jamie Jones's role as cup goalkeeper and penalty hero also pretty secure.
Ben Amos' performances last season were relatively solid and it seems like he has developed a good understanding with the defence in front of him. He conceded 44 goals in his 46 games which is something to be proud of but it isn't unfair to say that was just as much down to the players in front of him as it was his own performances.
Amos made 79 saves from the 117 shots on target he faced giving him a save percentage of 67.5%. This stat combined with the low amount of goals conceded isn't bad by any means, but when you consider the amount of saves per 90 he was required to make compared to other stoppers it starts to tell a less positive story.
For 'Shots on Target' faced per 90, Ben Amos is 53rd out of 57 goalkeepers in League 1, and 2 of the 4 below him only played 1 game. This tells us that he isn't kept busy because of the work of those in front of him, and when he is called into action he keeps the ball out 2 times out of 3. This suggests that if he played in a team that afforded their opponents more goal scoring opportunities he would've conceded far more and his numbers have been potentially enhanced by his team mates.
This isn't meant to be a witch hunt on Ben Amos, but it does show that a new goalkeeper could be necessary next season when you'd imagine our goalkeeper will be needed far more often.
Finally, both Amos and Jamie Jones are in their 30s and approaching the final year of their contracts which means planning for a long term successor to the number 1 spot makes sense.
Here are some players I think would be sensible transfers for Latics to make.
Target 1 – Jamie Cumming. Chelsea.
A name that will likely be familiar to Latics fans is Chelsea's 22 year old Goalkeeper Jamie Cumming. He spent the first half of the season on loan at Gillingham but after impressing at the relegation strugglers made the switch to promotion chasing MK Dons where he has continued to put in positive performances.
As you'd expect with an MK Dons keeper Cumming is very comfortable with the ball at his feet and has registered the highest completion of passes by a Goalkeeper since his move to Stadium MK with 69%. Both he and Ben Amos averaged a similar number of touches per 90 in the second half of the season but the Chelsea loanee was more productive with the ball than Amos.
In terms of his shot stopping he hasn't had much work to do since arriving at MK Dons, but his first half of the season at Gillingham shows what an excellent Goalkeeper Cumming is. He faced an average of 5.36 shots on target per 90 and had a save percentage of 74.6% (7% higher than Amos). For a young goalkeeper to be tasked with keeping the ball out for a struggling side is a serious test of both ability and character and he passed it with flying colours.
Thankfully for Cumming he continued this rich vein of shot stopping form when he moved to MK Dons in January. In a much more defensively solid side he kept 9 clean sheets in 21 games, conceded just 14 goals and had a save percentage of 74.5%, almost identical to the number he registered at Gillingham.
Statistically it's clear that Jamie Cumming has been one of the best performing goalkeepers in the league and you'd imagine from both his and Chelsea's point of view the logical next step is a move to the Championship. Following MK Dons failure in the play offs I wouldn't expect him to extend his loan with them, so Chelsea could be keen to send him to the second tier in search of further experience.
However, they could also be tempted to cash in on the 22 year old as he enters the final year of his contract, especially given the success of fellow Blues loanee Nathan Baxter at Hull City. If they see Baxter as the better prospect Cumming's time at his boyhood club could be cut short early. If this is the case I'd imagine he'd command a fee in the region of £500,000, although Transfermarkt.Co.Uk values the stopper at £270,000.
There is no denying Cumming would be an excellent signing for Latics and arguably an upgrade on Ben Amos based on the pairs respective performances this year. There are a few doubts surrounding him though, he has never played at Championship level and the step up would be a challenge for any young keeper. He is also a Southern lad who has never been on loan more than an hour away from London so the move away from home could be unappealing, especially if clubs closer to the capital come calling.
Finally it might be difficult for Latics to guarantee him first team football which is what he and Chelsea would probably want. He won't be short of suitors and if Latics aren't able to promise the number 1 shirt he could find it elsewhere. That being said he is an excellent young goalkeeper and if we are able to tempt him up north either on loan or permanently it could be a fantastic move.
Target 2 – Toby Savin. Accrington Stanley.
Young Accrington Stanley stopper Toby Savin not only has a name fit for a goalkeeper, he also possesses an impressive skillset for a player so young. The 20 year old started the season on the bench behind Manchester City loanee James Trafford but displaced him in the first team in October and hasn't looked back since.
A commanding figure standing at 6'4 Savin was actually part of Wigan's youth set up in the 2013/14 season before moving on to Everton in the summer. When he arrived at Accrington in 2017 he made a positive enough impression to earn himself a 2 year professional deal with John Coleman's side and took his opportunity when it came to him.
He played 31 matches in the 2020/21 season and this time around has featured 33 times for a front footed Accrington side not exactly known for their defending. He's conceded 47 goals at an average of 1.45 per 90 but despite what looks like poor numbers he has had some good moments and top class saves over the course of the year.
Statistically he doesn't stand out, in fact he has the 3rd worst save percentage in the division with 63%. He has also made some pretty horrendous errors, one of which Latics fans might remember at the DW Stadium when he dropped a tame Max Power free kick at the feet of Will Keane who tapped home into an empty net. After that match his manager John Coleman commented on what a tough time his young keeper was having which suggests he's a player that needs confidence to perform, understandable for a player of his age.
He isn't the best with his feet but he's by no means a liability on the ball and he takes better long goal kicks than Ben Amos does, something that shouldn't be underestimated for a side that could find themselves under pressure and in need of a keeper capable of launching direct counter attacking balls next season.
However, I don't think we should sign Toby Savin and make him our number 1 immediately. To me the sensible thing to do when it comes to the Accrington keeper is sign him and mould him into the clubs future first choice keeper, but keep Ben Amos as the main man at the start of the season.
He's entering the final year of his contract and Accrington Stanley aren't the kind of club that can turn down a couple of hundred thousand pounds should they be offered it for one of their players. He's rumoured to have garnered interest from Middlesbrough in recent months so we might have to engage in a bidding war should we decide to pursue the Southport born stopper.
He's not an immediate upgrade but if we decide to trust Ben Amos in the Championship, which wouldn't be the worst idea albeit not the best in my opinion, having a talented young back up goalkeeper to slowly phase into the side would be a very sensible move to make. It also doesn't disrupt the side's dynamics by ousting Ben Amos which could be a problem with other players.
Target 3 – Matija Sarkic. Wolverhampton Wanderers.
Does this name sound familiar Latics fans? It's fair to say that the goalkeeper that arrived on loan at the DW Stadium in 2017 has come a long way since then and is now unquestionably a Championship level player. After leaving Aston Villa in 2020 to join Midlands rivals Wolves Sarkic has developed well and his most recent loan spell at yet another midlands side Birmingham City was extremely positive.
Altough his season was ended in January when he suffered a dislocated shoulder his performances up until that point were on the whole very impressive and without him Blues have really struggled in the second half of the season. It could even be argued that his performances in the first half of the campaign went a long way to keeping them out of genuine relegation danger, something they tumbled towards after the Montenegrin's injury.
He made 23 appearances in the Championship last season in a poor Birmingham side, conceding 29 goals at an average of 1.26 per 90. He was tasked with keeping out an average of 3.52 shots on target per 90 and with a save percentage of 67.9% he did so relatively well in a higher quality division than the other players I'll mention in this article.
Perhaps the most impressive statistic to Sarkic's name is his 10 clean sheets, meaning he kept a clean sheet in 43.5% of the matches he played. That is the 4th best in the Championship last season and really impressive for a young goalkeeper in his first season playing at that level.
What Sarkic has which the previous two keepers don't have is experience playing Championship football, and for a goalkeeper that really is an important thing to note. He seems to have matured and improved technically as a goalkeeper since his time on loan with us and if the opportunity for him to come back and prove himself to Latics fans once and for all became an option it could be an attractive proposition for him.
He's Montenegro's international goalkeeper now too which will do him the world of good in giving him more experience. It makes sense for him and his parent club Wolves to give him another loan in the Championship to allow him to try and carry on where he left off before his injury.
He would probably want guarantees of first team football and is probably a slightly better goalkeeper than Ben Amos at this moment in time, but not to a point where he's the stand out number 1. If he wants a challenge and wants to fight for his place coming back to Latics could be an option.
There may be question marks around his comeback from injury, especially given the nature of it for a goalkeeper. Assuming his rehabilitation at Wolves has gone as planned he should be ready to go for pre season and a loan move, perhaps with a view to being made permanent if things go well, would make sense for all parties in my opinion.
Target 4 – Gavin Bazunu. Manchester City.
Another player that spent the 2021/22 season on loan in League 1 is Manchester City's Irish international goalkeeper Gavin Bazunu who has impressed at Portsmouth this season. He also made a name for himself on the international stage when he saved a Cristiano Ronaldo penalty for the Republic of Ireland against Portugal in September.
However, it's in his domestic performances with Pompey that Bazunu has received the most plaudits. An impressive shot stopper and comfortable in possession, the 20 year old looks destined to be a Premier League goalkeeper at some point in his career but I think there could be room for one more loan spell before then.
With Portsmouth last season he kept 16 clean sheets in 44 games, the joint 2nd most in the league with Ben Amos. He was kept busy throughout the season facing the 5th highest number of shots on target in the league with 184 and met them with an excellent save percentage of 73.4%.
You couldn't class Portsmouth as a defensively solid side and having a goalkeeper as good as Bazunu between the sticks definitely allowed them to be slightly more expansive. This also made use of his excellent distribution and the Irish international played a part in a couple of Pompey goals, the most notable contribution being a pinpoint 50 yard throw to George Hirst for their second goal in the 3-0 home win over Rotherham.
The ability to start fast counter attacks could be valuable for a Latics side likely to be playing on the break at times next season, and there aren't many better in the EFL than Gavin Bazunu at this area of the game. His international experience means the step up to Championship football shouldn't be too big a jump and despite his young age I believe he can shoulder the responsibility.
There have been rumours that he could make a permanent move away from the Etihad with Premier League side Southampton reportedly interested. If this is true a loan move seems extremely unlikely, unless we try and do a deal with the side he goes on to join. However, at the moment we can only work on the assumption that this is just paper talk.
I could definitely see a loan move for Bazunu being possible for Latics to pull off and if he was to arrive he'd undoubtedly be our number 1. The international links he has with James McClean, Will Keane and Jamie McGrath could go a long way to convincing him to join Latics if there are other clubs in the conversation as well, and the fact he's based in Manchester means he wouldn't have to move far. That being said he seemed very comfortable moving 190 miles to Portsmouth so this might not be an issue for him!
Whilst a loan move for Gavin Bazunu could be seen as a short term solution to a potentially long term problem it would definitely strengthen us greatly. He's an excellent goalkeeper capable of starting counter attacks with his distribution and would be a hell of a coup if we are able to pull it off. I wouldn't be surprised if he receives offers from more established Championship clubs but his Ireland team mates and the geography of the club could swing things slightly in our favour if we try and do a deal.
Target 5 – Nathan Bishop. Manchester United.
Dropping down a level to league 2 where one of the best performing goalkeepers is Nathan Bishop, the Manchester United loanee at Mansfield Town. The 22 year old has been ever present for the Stags as they secured a play off spot on the final day of the season, and his performances along the way have made such an achievement possible.
Bishop joined Manchester United in 2020 from Southend United and spent his first year at the club in their U23s side. This year is his first ever loan but having racked up 30 senior appearances at his boyhood club prior to his move away he is more than used to playing first team football, especially now he has an impressive full season under his belt.
Mansfield Town have enjoyed a positive season and the performances of Bishop have been an important part of it. His 14 clean sheets are joint 4th best in the division and he's made the 10th most saves of any goalkeeper in league 2 with 111. For goalkeepers 23 and under these are the best numbers in the league by some distance.
Whilst he isn't necessarily a stand out performer in the league statistically its clear to see the development in his game from the start of the season to now and the logical next step for him is a move to a higher division. Whether that is a jump straight to the Championship is something that will ultimately come down to the player himself as I do expect some decent clubs to be interested in his services.
He isn't at a level where he can be guaranteed first team football for Latics but I see no harm in bringing him in on loan to challenge Ben Amos for his number 1 shirt. Its not unheard of for clubs to loan in a young goalkeeper as backup and allow them to develop over the season and push the first choice keeper all the way, Nathan Baxter at Hull City this season is a prime example of this method working wonders.
Ben Amos would likely remain the clubs number 1 should we sign Bishop but the 22 year old would offer much more competition for places than Jamie Jones who seems to have accepted his role as back up. I can't say whether Nathan Bishop is the type of determined character that would be desperate to take Amos' spot but if that is ultimately the case it could work wonders for all parties.
Again this isn't a short term fix, and it might not even be a long term move if we don't sign him at the end of his contract which expires in 2023. If we ultimately decide that Ben Amos is the clubs first choice goalkeeper brining in a youngster like Bishop to fight tooth and nail for his shirt could bring out the best in Amos as well as developing a young keeper that we could realistically sign if things go well.
With him being based in Manchester there could also be an agreement in the loan that means Bishop is allowed to feature for United's youth team should he not be required for Latics that day, be it an international break or otherwise. It's definitely a deal that has its positives but I would say there are more sensible transfers to make.
Target 6 – Jamie Sneddon. Partick Thistle.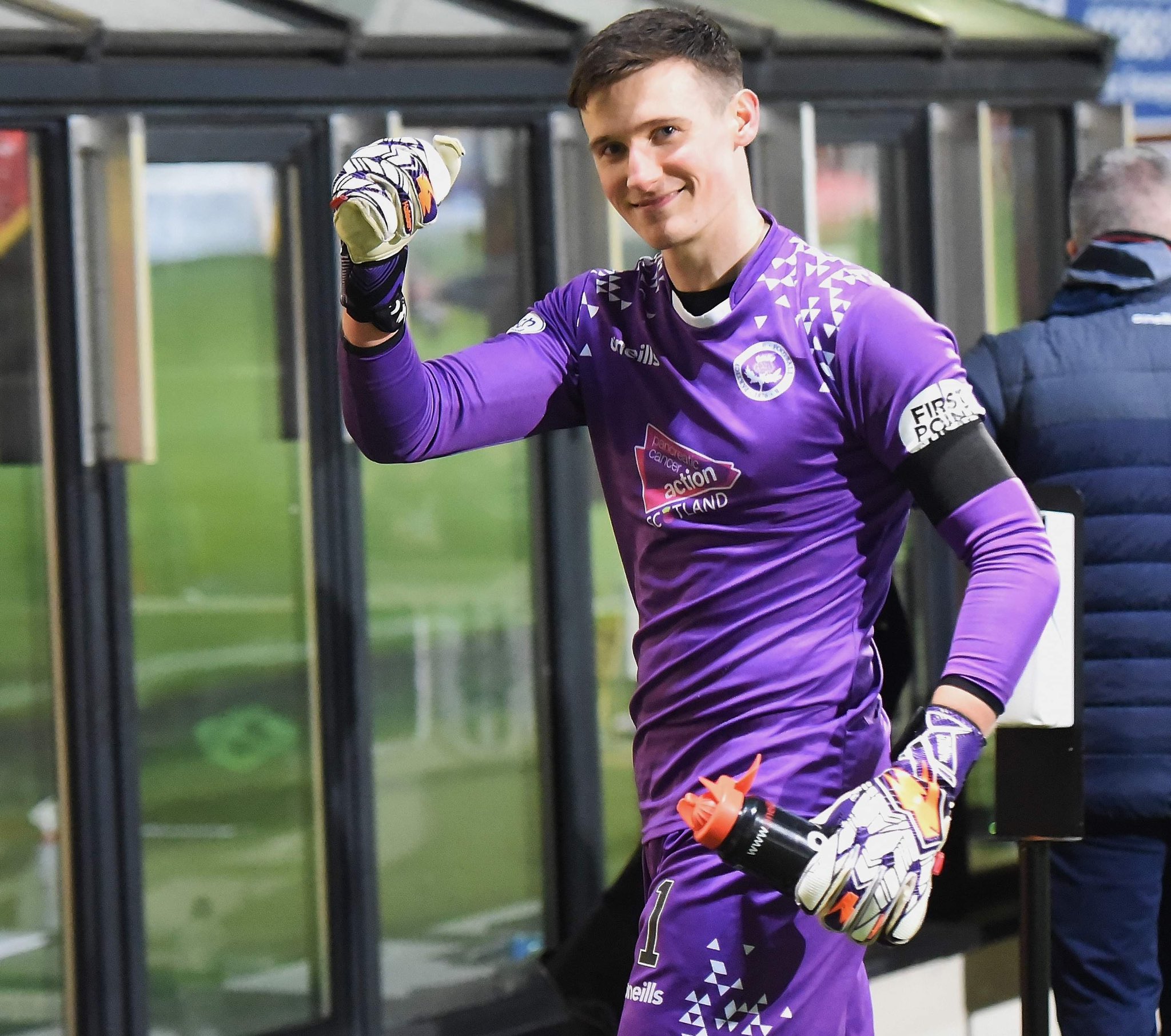 Perhaps a slightly more left field option comes in the shape of 24 year old Partick Thistle goalkeeper Jamie Sneddon who has shown up as someone worth taking a look at during my research. He's been one of if not the standout goalkeeper in the second tier of Scottish football this year and I expect him to attract some interest in the summer.
His most impressive statistic is his 17 clean sheets which is the highest number in the league, and that includes 7 in a row from October through November. This means in 47% of his matches this season he has kept the opposition out which is one of the highest percentages in the UK. He does have a really solid defence in front of him which contributes to that figure but that doesn't take anything away from his achievements.
With a save percentage of 65.7% he doesn't jump off the page but that's still a solid record and one of the best in the league. He doesn't really make any glaring errors and seems to have made himself into a reliable figure after a couple of uncertain years between the sticks.
Consistency of performance is one of the most important qualities a goalkeeper can possess and I'd certainly call Sneddon a consistent performer. He faced some competition early on in the season when Thistle signed a young goalkeeper from Hearts called Harry Stone, but he fought off that threat and has cemented himself as a key man at Firhill.
Perhaps surprisingly I have seen a couple of Partick Thistle fans on Twitter suggesting they wouldn't mind seeing him move on this summer. Twitter is by no means a place to get your accurate information from but the feeling is he's had his chance at the club and they'd like to see a new face in goal. Based on what I've seen of Sneddon this seems a ridiculous idea.
It must be noted that almost every goalkeeper gets better with age and Sneddon is still only 24. He's also still relatively new to first team football, and with a record of 25 clean sheets from 49 games in the last 2 seasons it seems hard to believe he might be considered surplus to requirements at the Scottish side.
He extended his contract earlier this season but it runs out next summer so the fee for him wouldn't be too much. As we've seen with the signings of Jason Kerr and Jordan Jones we have trust in the Scottish market and a player like Jamie Sneddon won't have gone unnoticed by our scouts north of the border.
I see little risk in signing a player like Sneddon for a cheap fee and if he continues to develop at the rate he has done in these last 2 seasons he could be a seriously talented goalkeeper in a few years time. As a medium to long term replacement in the goalkeeping position there aren't too many better realistic options that we could pick up, and for the fee I'd expect Partick Thistle to command we'd be sensible to go and try and make it happen.
Final Thoughts
These are 6 players that I believe would be very sensible for Wigan Athletic to make and they all have their pros and cons in their own ways. Finding a top class goalkeeper is one of the hardest things to do in football but based on the data I've gathered and the clips I've seen any of these 6 names would improve our side next season.
I'm also not 100% sure we need to replace Ben Amos just yet, but he's certainly not in a position where he can be 100% sure of his place either. His previous seasons in the Championship don't strike much confidence in me, but Leam Richardson seems to be a loyal manager and I can't see him being overly keen on replacing him straight away.
That being said if any of these players become available I am of the opinion that we should go for them. It's important to think beyond next season as well, not to get ahead of ourselves but that's always a 'sensible' thing to do when making a transfer.
Most importantly what do you think? Let me know your thoughts on which of these players you think would be the most sensible transfer, and if you have any other players you'd like us to sign let me know on my Twitter below.
Thanks for taking the time to read this and I hope you'll be back soon!