The next instalment of my Sensible Transfers series focuses on a key area of Latics' side and a position I expect us to invest in this summer, I'm of course talking about Centre Back. With Leam Richardson seeming to favour a 3 at the back system nowadays you'd say we need 5 first team CBs to ensure quality depth in that area, safe in the knowledge that Tom Naylor can step into the back line if absolutely necessary.
Kell Watts' loan spell has come to an end and he'll return to Newcastle for the new season which leaves us with 3 options at the back. Jack Watmough and Jason Kerr are undoubtedly Championship quality and don't need upgrading, but the left side of our back 3 in particular needs some attention.
Curtis Tilt is a solid left footed option but most fans would probably agree with me when I say he shouldn't be expected to play the majority of games. He's a good enough player to call upon when needed, especially in a back 3, but I think it's vital we go out and sign a leading CB and preferably one comfortable on the left of a 3.
In this list I'm going to talk about 5 left footed Centre Backs that Latics should target. Like I mentioned before we need to sign two CBs this summer so getting one left footed and one right footed player seems like a sensible strategy.
Here are the left footed players I believe would be sensible signings for Latics to make. I'll be comparing them with Kell Watts who played the second highest number of minutes at CB last season behind Jack Watmough.
Target 1 – Macaulay Gillesphey. Plymouth.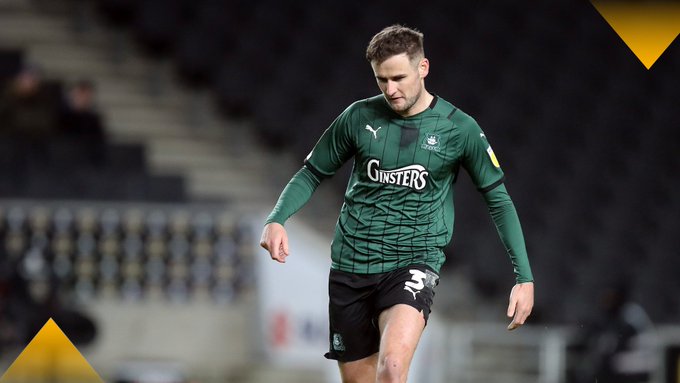 Plymouth Argyle's 26 year old defender Macaulay Gillesphey would be a great pick up for Latics and could be willing to leave the Pilgrims after they failed to make it to the League 1 play offs.
A left sided player that is comfortable playing at full back or central defence, Gillesphey has had a really impressive season for Steven Schumacher's side and looks more than capable of making the step up to Championship level.
He's spent most of the season playing on the left of a back 3 so wouldn't find the transition into our side too difficult. In the earlier years of his career he's played in back 4s too so should Leam decide a 4-2-3-1 is the way forward he'd certainly be comfortable doing that as well. This is particularly important as Kell Watts was our go to in a back 4, so without him here that's a hole that needs filling.
Gillesphey averaged 1.28 tackles won per 90 at a success rate of 73% which put him in the top 10% for League 1 CBs last season. With 0.22 blocks, 3.84 clearances, 2.6 aerial duels won and 0.66 interceptions per 90 he looks to be a really solid defender and was part of an Argyle side that kept a league high 18 clean sheets last season. He's a smart and sensible defender too and remarkably only picked up 1 yellow card in his 40 games.
He's also excellent on the ball and averaged the 6th highest accurate passes per 90 in the league with 49.5, behind 4 MK Dons players and former Latics skipper Sam Morsy. He also averaged 10 more than the second highest Plymouth player which suggests they trusted him to start the majority of their attacks and wanted him heavily involved in the build up.
He possesses the ability to play a brilliant diagonal ball which is something Kell Watts had too. With Latics often using these passes to start attacks having someone capable of doing it accurately would be brilliant, especially with Charlie Wyke set to return up front to get on the end of them. Last season no League 1 CB completed more progressive passes per 90 than Gillesphey who averaged 14.1.
He's entering the final year of his contract but I don't expect Plymouth to be too keen on selling the 26 year old. Transfermarkt values Gillesphey at £360,000 which I think would be an absolute steal, in fact if Latics are able to pick him up for anything less than £750,000 you'd have to call it a bargain buy.
Left footed Centre Backs can often come at a premium but with Gillesphey entering the final year of his current deal we might have a slightly bigger chance of getting him. You'd assume he'd be keen to challenge himself in a higher league and I believe he's more than capable of making the step up if given the chance. He's also in the prime years of his career which might interest us even more, and I hope it does because he'd be a very sensible transfer.
Target 2 – Alex Hartridge. Exeter City.
Another left footed centre half who's spent the majority of the season playing on the left of a back 3 is Exeter City's academy graduate Alex Hartridge. The 22 year old impressed for the League 2 promotion winners last season and looks an accomplished EFL defender.
He's a slightly more inexperienced option who has never played above League 2 but statistically Hartridge looks like one of the most promising CBs in the EFL, especially given the fact he's left footed.
He's not been first choice for the whole season at Exeter but having played a similar amount of minutes to Kell Watts the comparison between the two is quite telling. Hartridge averaged 0.92 tackles won per 90 at a success rate of 71% which is a decent showing for a player playing in one the divisions strongest sides. It suggests that if he played in a side that did more defending he'd be more than capable of performing well.
This is backed up by the rest of his defensive numbers too. With 0.11 blocks and 1.37 interceptions per 90 he's comfortably above average in the division for these metrics, but his most impressive attribute is his aerial dominance.
Despite only being 6'1, which in League 2 especially isn't tall for a CB, he ranks in the top 10 for clearances made per 90 with 5.68. He also averages 5.1 aerial duels won per 90 which highlights his physical attributes are there, something that can often be an issue for some defenders.
He isn't particularly productive with the ball but neither are Exeter City as a whole. The Grecians rank 15th for completed passes and with Hartridge averaging 25.4 per 90 its an area of his game that definitely needs improving. That being said he's not a liability on the ball by any means and Latics don't ask too much of their CBs in possession so he shouldn't struggle.
He recently signed a contract extension at his boyhood club that will see him remain at St James' Park till 2024. With their promotion to League 1 confirmed there might be question marks surrounding his availability, but the pull of a side in the Championship could be too good to turn down for the 22 year old.
Exeter manager Matt Taylor recently spoke about the fact that some of his squad could attract interest in the summer and that if reasonable bids came in they would have to consider them. The club were recently hit with a financial blow regarding their new training facilities so if a decent offer for Hartridge came in they might be tempted to sell.
Target 3 – Naby Sarr. Huddersfield Town.
The first name on this list with Championship experience comes in the shape of Huddersfield Town's Naby Sarr. The 28 year old former French youth international has struggled for games under Carlos Corberan this season and looks set to leave the club in the summer.
At 28 you'd imagine Sarr's looking to be a regular starter at his next club and with Latics in the market for a left sided defender, and an experienced one at that, it could be a match made in heaven.
Sarr has played 18 games this season, starting 14 times and being subbed on to defend leads on 4 occasions. In a Huddersfield side that kept 19 clean sheets last season it's perhaps not a surprise that he struggled to make it into the team on a regular basis, but it's important to note that this wasn't because of poor performances.
Sarr averaged 0.64 tackles won per 90 at a success rate of 56% which isn't anything to shout about but that is of course from a small sample of games. With 0.86 interceptions, 0.07 blocks and 4.29 clearances per 90 he's not a stand out statistically, but those that have watched him will know these don't necessarily tell the whole story.
What the data does show is that he's very comfortable on the ball, and you really have to be in order to play in this current Huddersfield Town side. With 81% of his passes finding a team mate its clear that Sarr would be comfortable should Latics look to keep the ball, and has the ability to play long balls effectively too.
He's also a real threat in the opposition's box too and has scored 0.21 goals per 90 this season which is extremely impressive for a defender. Set pieces will be a huge part of our game next season and having a dominant defender that can make an impact in both boxes would be really useful for Leam Richardson's side.
The Frenchman's contract is up this summer and the chances are he'll be moving on given his lack of first team football. Huddersfield are yet to release their retained list because of their play of campaign that is set to kick off but my assumption would be that Sarr's time at John Smith's Stadium is coming to an end.
I can't see him dropping out of the Championship and a move to Latics makes sense for both club and player. He'd certainly come in as the first choice on that left hand side of defence and is the exact kind of player I expect us to go after this summer. He might not be as much of a long term fix as the others on this list but he'd definitely be a sensible transfer.
Target 4 – Daniel Happe. Leyton Orient.
This pick might come as a surprise to some people but I really think Dan Happe at Leyton Orient is due a move to a bigger club. He's struggled with injuries this season but at 23 years old he's got plenty of development left in him.
He burst onto the scene a couple of seasons ago and was attracting interest from Premier League clubs like Norwich and Tottenham, and the latter even made a £300k bid for the defender. Despite a season without much game time I really think there's a player here.
Its going to be hard to put forward a compelling data supported case for Happe given the fact he's only played 10.9 90s this season but I'll try my best! having played in a mixture of formations Happe usually lines up as the left Centre Back in a 4 or 5 man defence which requires him to be comfortable on the ball as well as dominant when it comes to his defensive duels.
Lets look at the defensive side of his game first. Last season he averaged 0.55 tackles won per 90 but these came at a success rate of just 38%, the lowest on this list by some way. This could be down to a number of things and I do wonder if one of the reasons is that he was playing through the injury that ultimately ruled him out for the season.
In the 2020/21 season he won 0.89 tackles per 90 at a success rate of 75% so he's clearly not an incompetent defender. Last season he made 0.91 interceptions and 4.22 clearances per 90 which put him above the League 2 average Orient kept 5 clean sheets in the 12 games he played and just 9 in the 34 that he missed so he's certainly an influential player.
He's very capable on the ball and has demonstrated that across his short career so far. A trait I've already mentioned as being useful for a Latics defender is the ability to spray long diagonal passes forward and its something I've seen Happe do really well in the footage I've seen of him. His technique is good and is a confident player with the ball at his feet.
This can sometimes lead him to try and overplay in dangerous situations but that's a part of his game that will probably be phased out as he gets older and more experienced. Like I've said he's still only 23 so there's a lot of room for him to grow. Despite his young age he's an imposing figure and a real leader on and off the pitch which will stand him in good stead as he rises up the divisions.
The injury he sustained might make clubs turn their noses up at Happe but I don't think that should cloud what a wonderful player he will turn out to be. As we've seen with Jack Watmough you shouldn't write off a player because of his injury history and with Happe's market value at an all time low now could be the perfect time to take a punt on a talented young defender.
Target 5 – Kell Watts. Newcastle.
This isn't cheating is it? My 5th and final suggestion for a left footed Centre Back is none other than Newcastle United's Kell Watts, who of course spent last season on loan at Latics in League 1.
Watts played a crucial role, particularly at the very beginning and very end, of our league winning season and we could do much worse than resigning the 22 year old this summer
He recently signed a contract extension for his home town club but with the Magpies set for a summer of spending under their new ownership it could be too soon for Watts to break into the side. With that in mind bringing him back to the club where he enjoyed the best season of his career makes sense from the Geordie's point of view, and would be pretty sensible of us too.
What's interesting with Watts is statistically most of the names on this list have him beaten in the majority of areas. This isn't really down to the fact they're better players but instead because he was part of a Latics side that didn't have much defending to do all season. The most impressive thing for Watts is that when tasked with defensive responsibility he was up to it.
His 75% tackle success rate means Watts sits in the top 10 for Centre Backs with 1000+ minutes played for this metric. His tall figure makes him difficult to take on and despite this he's still relatively agile. He can struggle when facing up to a physical striker but as he becomes more experienced this should become less of a problem.
On the ball he's very capable too and as I've referenced a few times already he's got a really nice cross field pass. The 22 year old has played almost 100 games in his career to date so these talents will only continue to develop and given the progress he's made this year under Richardson's tutelage he might be keen to carry on at Latics.
His time out of the side in the middle of the season was because Leam Richardson seemed to prefer using Curtis Tilt in a back 3. When the Jamaican international picked up an injury against Bolton Watts came back into the side and ended the season really well alongside Watmough and Kerr. Carrying that partnership into next season could be a really good idea if possible.
It would probably only be a loan for Watts again but it would be a really simple solution to what is arguably Latics' biggest problem heading into the window. He might be available permanently too but his contract was recently extended by Eddie Howe, whether that was so they can command a higher fee for him is yet to be seen. I di think he's earnt his chance to play Championship football and we would be sensible to offer it.
Final Thoughts
These are 5 left footed Centre Backs that I believe could slot into Latics' side and suit the style of play, formation and age profile that we should be looking at this summer. We do already have a solid left footed option in Curtis Tilt but I believe signing any of these 5 players would improve us and ease the load on Tilt as he returns from injury.
In my next article I'm going to look at 5 more Centre Backs that could do a job on either side of the defence but that aren't left foot dominant. If Latics were to sign one player of this list and another of the next list discussing CBs it would be wonderful business.
Most importantly what do you think? Let me know your thoughts on which of these players you think would be the most sensible transfer, and if you have any other players you'd like us to sign let me know on my Twitter below.
Thanks for taking the time to read this and I hope you'll be back soon!